As well as our renowned cleaning services, Iron Maidens are pleased to announce the launch of their specialised Wedding Dress and Wedding Outfit cleaning and repair service.
We have a reputation for the cleaning of wedding gowns, stage and formal wear and have been doing so for over 10 years.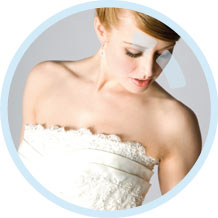 As North Staffordshires's Wedding Dress cleaning specialist, we offer our specially developed 'green' cleaning process, ideal for silks, delicates and highly embellished fabrics.
We cater for all gowns including those labelled Specialist Dry Clean, Spot Clean and even Do Not Dry Clean.
WEDDING DRESS OFFER:
Bring your dress in to be cleaned from 26th to 31st of January for just £49.99*
Quote WEB to receive this great offer.
*T&Cs apply. Box not included, excludes silk dresses.
Our dedicated and experienced team have an eye for detail and will always give your dress their personal attention. Any beads or embellishments can be repaired or replaced if missing. We also clean Bridesmaid, Christening Gowns and Prom dresses with an attention to detail second to none.
All garments are fully insured and return crisp, fresh and covered.
Thank you Iron Maidens, the wine stains have been removed, my dress is beautiful and the storage box is just the finishing touch.
For more information about our service, please call 01782 633765 , email us at [email protected], or use our booking form.